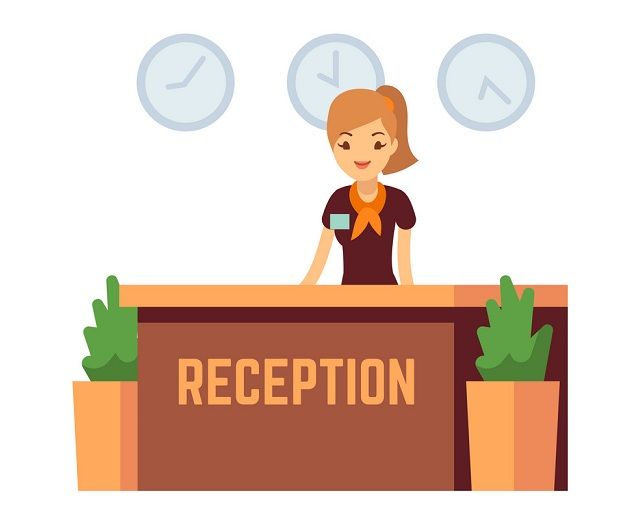 Corporate Receptionists
A corporate receptionist is the first point of contact for any visitors to the office or anyone contacting the organisation.
The position allows individuals to gain a vast  insight on many different areas of a organisation. Working in this role can provide a individual with a large array of skills, knowledge and experience within the organisation.
As a corporate receptionist their is also plenty of opportunity to meet important stakeholders and build a relationships. Therefore if they wish to move up in corporate world, there will be strong business relationships already.
Starting in a role as a corporate receptionist has many benefits for your current career and career ahead.
Corporate Receptionist Responsibilities
Diary management and management of meeting rooms
Diary management will include meeting room bookings or upcoming events.
Meeting room management generally includes tidying the meeting room, setting up the meeting room and offering visitors refreshments.
Handling phone calls, emails and visitors
Looking after general inquiries is generally the corporate receptionist responsibility.
Along with this, welcoming all new stakeholders into the office and notifying the appropriate staff.
Managing office supplies such as stationery, equipment and furniture
Assisting the office manager or administration staff in general office supplies and keeping updated records of office costs.
Performing administration duties
The receptionist may also assist other administration staff with their tasks or pick up their own administration tasks.
Performing other clerical receptionist duties such as filing, photocopying, transcribing and faxing.
Maintaining office services as required
Making sure the office is presentable upon entrance, for example watering plants or making sure cleaners are booked.
Receiving and dispatching deliveries and assisting with mail as required
Receptionist's also organise mail collection for the business and sign for delivery's.
Assisting the HR team
A long with helping other administration staff, receptionists generally assist HR staff with their tasks.
Corporate Receptionist Skills
Qualification in Business
Qualifications are not always expected by a business, but it is recommended to have a qualification prior to entering the role.
We recommend this so you have the necessary foundation skills and knowledge.
Previous experience
This skill is not always expected when applying for a job.
However is always good to have, experience doesn't always have to be in a work environment it can be study, school or other life activities.
Customer service attitude
As a receptionist you are almost always the first point of contact for stakeholders.
Having a helpful and professional welcome is important for the business and the first impression on stakeholders.
Solid written and verbal communication skills
It is important to have good writing skills and be able to use things like Microsoft and communicate between stakeholders.
In a reception role you are often speaking to staff, speaking to customers and speaking to other stakeholders. Therefore being able to communicate important points is necessary for the success of the role.
Organizational skills
Generally a receptionist will have a list of many different tasks to complete during their day, it is important to organise work priorities.
Solid understanding or training in human resources functions and processes
Depending on the business, having skills in HR might be necessary.
Average Pay Corporate Receptionists
According to www.payscale.com the average pay for a corporate receptionist is currently AU$45,653 a year.
How to become a corporate receptionist
If a career as a corporate receptionist sounds like something you want to do, we can help you gain the skills needed to start your journey!
Enrol in our Certificate IV in Business and specialise your skills in administration.
Your units will cover many areas that will allow you to move into the career comfortably and with the foundation skills required.
Our Certificate IV in Business (Administration) is nationally recognised.
How to enrol in the Certificate IV in Business (Administration)
Head to the course page and select enrol now
Once your enrolment application has been received, we can start processing your application.
Your application will take 1 business day to process, once processed you will receive your login details.