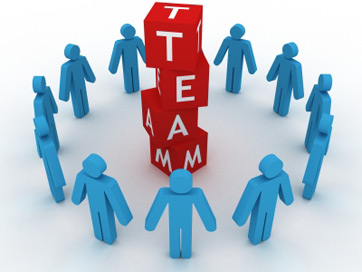 Team leaders
A team leader oversees the functions of a workgroup by monitoring, guiding and leading a team of people. They are also responsible for motivating team individuals, therefore, providing positive enforcement to inspire the team to meet goals and KPIs. A team leader often works alongside other members of the team.
Team Leader Responsibilities
Coaching and training team members
Working in the frontline allows team leaders to train and coach other members of the team. Workplace coaching is a continuous two-way feedback between the coach and learner.
Bill arrived late to work several days in a row, putting daily and weekly tasks behind. The team leader 'Sally' coached Bill to develop better time management skills.
Manage Performance
Managing people's performance means developing team strengths and improving on team weaknesses. This may be done through monitoring team goals and KPIs or team performance.
Identify team goals
Working in the frontline with the team allows team leaders to identify daily and weekly goals and work on meeting them with the rest of the team. This may be done by:
Identifying what the team wants to achieve
Make goals measurable
Setting team goals
Setting individual goals
Establishing deadlines
Tracking progress
Supporting the team
Solve problems
Solving problems such as customer disputes, team issues or staff shortages. General problems may take part in your day that become the team leaders responsibility to resolve such as IT issues or order issues.
Build business relationships
Business relationships with all stakeholders including employees and customers is critical in this role. Depending on your chosen industry will depend on the types of relationships necessary.
Coordinating recruitment and onboarding
Team leaders may not be tasked with this task in full but will often be involved in the onboarding and training phase. Regardless, it is a good skill to have when working in a team leader position.
Team Leader Skills
A Qualification in Business
This is not always expected by a business, when applying for a job.
However, we recommend this so you have the necessary foundation skills and knowledge. Business qualifications allow students to gain a in depth understanding on complex documents, business relationships, organisation, leading teams and more.
Enrol in our Certificate IV in Leadership and Management qualification
Enrol in our Certificate IV in Business qualification
Previous experience
This skill is not always expected when applying for a job. However, it is always good to have, experience doesn't always have to be in a work environment it could be through other forms like community groups or sporting.
Problem Solving Skills
This position can mean your day to day tasks may not always go to plan or be similar every day. Problem-solving skills are necessary in order to solve office issues, customer service issues or other issues.
Organisational skills
Similarly, this skill is important for the same reason problem-solving skills are a necessity.
Organisation skills can be developed over time by completing a course in business operation, business administration and leadership.
Solid written and verbal communication skills
In addition, it is important to have good writing skills and be able to use things like Microsoft office; particularly for reporting on projects. Communication is vital in a role like this as you need to be able to communicate with members of the team.
Leadership Skills
A team leader helps run a group of individuals, leadership skills are necessary.
Average Pay Team Leader
According to www.payscale.com the average pay for a team leader is AU$71,297
How to become a Team Leader
If a career as a team leader sounds like something you want to do, we can help you!
Enrol in our Certificate IV in Leadership and Management
OR; Enrol in our Diploma of Business
OR; Enrol in our Diploma of Business (Operations)
OR; Enrol in our Diploma of Business (Organisational Development)
All of the above courses are nationally recognised and qualify individuals for a role as a team leader.
HOW TO ENROL
Head to the course page link and select enrol now
Once your enrolment application has been received, we will start processing your application.
After that, your application will take 1 business day to process.
NEED MORE COURSE INFORMATION?
Contact a learning and development consultant at LET Training.
They will be able to send you a information pack on the course and give you a call to discuss your study needs further.
CONTACT LET Training – enquire@lettraining.com.au (02) 9633 3929